Bright white teeth can boost your confidence, and seeing yellowing teeth in the mirror can cause you to suppress your vibrant laugh and smile. While yellowing teeth are an aesthetic concern, a common question is: are yellow teeth healthy?
Yellow teeth can be healthy, but it depends on the cause of the discolouration. The undesirable yellow tint to your teeth can be a sign of enamel thinning, showing the yellow dentin below the surface, as well as an indication of gum disease, other dental problems that could compromise oral health, or from previous trauma where the nerve has been damaged, causing the tooth to start to darken.
If you're struggling with yellowing teeth and are unsure of the root cause, make an appointment with Dr. Cooper to determine the cause and whether treatment is necessary.
When yellowing teeth are getting in the way of showing off your smile, Cooper Dental has teeth whitening options available. Regular dental check-ups and good oral hygiene habits are essential for maintaining healthy teeth and gums and avoiding discolouration.
How Do Teeth Become Yellow?
Not all cases of yellowing teeth are the same. Yellowing tooth discolouration can be caused by the following:
Poor oral hygiene
Smoking or using tobacco
Certain medications and medical treatments
Aging
Genetics
Certain foods and drinks like coffee, tea, red wine, and soda
Enamel erosion
Grinding or clenching teeth
Medical conditions that affect tooth development or enamel formation
Trauma
Previous root canal treatment
How to Determine If Yellow Teeth Are Healthy
Yellow teeth can still be healthy if:
The extrinsic discolouration is only surface-level
The intrinsic discolouration is located within the tooth's dentin because of genetics or previous trauma
If the yellowing is caused by enamel erosion, gum disease, or other dental issues, the teeth are not healthy, and you should visit your dentist. Once we take the steps to reduce and reverse these dental problems, we can address the appearance of discolouration.
Addressing the root cause of yellowing teeth through proper at-home oral hygiene and professional dental care help maintain healthy teeth and gums.
Yellow Teeth Management & Teeth Whitening Treatments
Teeth whitening treatments under the care of a dentist can help manage and reduce tooth sensitivity. Cooper Dental offers at-home remedies and in-office treatments to help reverse teeth yellowing.
At-Home Whitening Treatments
For those who prefer to whiten their teeth during their at-home care routine, Cooper Dental offers take-home solutions with professional-grade products to effectively brighten your smile.
Tray Whitening
Using moulded trays to fit your teeth, tray whitening is a trusted method to gradually whiten teeth over the course of several weeks. Your customized trays come with a whitening solution and detailed instructions to comfortably brighten your smile while minimizing sensitivity.
It will often take a few weeks to achieve optimal results, but unlike with over-the-counter methods, you have access to your dental team and premium whitening solution to help you reach your smile goals.
Opalescence Go
Cooper Dental uses Opalescence Go as a full at-home whitening treatment or as a touch-up to in-office whitening sessions. This system uses prefilled trays with whitening gel containing potassium nitrate and fluoride, which helps brighten your smile while strengthening your enamel and preventing tooth decay.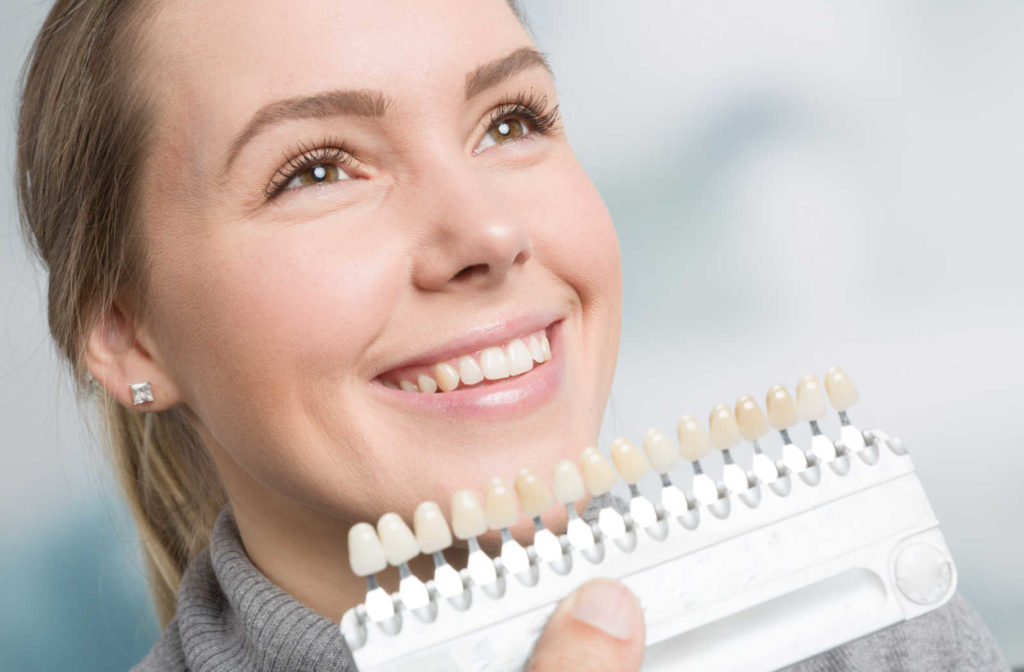 In-Office Whitening Treatment
Cooper Dental offers a 90-minute in-office teeth whitening treatment that will have you seeing results using Opalescence Boost.
Opalescence Boost
Opalescence Boost uses a potassium nitrate and fluoride mixture to reverse discolouration, decrease tooth sensitivity, strengthen enamel, and prevent cavities. The solution is carefully applied to the teeth to protect the gums and soft tissues of the mouth from sensitivity.
Whitening treatment results vary based on the type and severity of staining. No light or laser is required to whiten teeth with Boost, so you get a comfortable whitening treatment for a healthy smile.
Tooth whitening only works on natural, untouched teeth. If previous dentistry has been done, there are other options that need to be looked at, such as new white fillings, veneers, or crowns.
Tips to Maintain Whiter Teeth
Following your whitening treatments, practicing good oral health habits can help prevent future staining and brighten your smile. Protective measures against returning stains can help keep your teeth whiter between touch-up treatments.
Practice Positive Oral Health Habits
Brushing at least twice a day and flossing daily can not only help prevent cavities and gingivitis but can help preserve your bright, white smile. If there's a day when you know you'll be enjoying a glass of red wine or a high-sugar diet, carry some mouthwash to rinse away harmful bacteria.
Make Lifestyle Changes
Tobacco products can have a lasting impact on the appearance of your teeth, and by taking steps to cut back on smoking, you can prevent further tooth discoloration from developing.
Take Care of Your Smile at Cooper Dental
A dazzling smile begins with essential oral hygiene practices. Visit Cooper Dental for regular dental exams and professional cleanings to keep your teeth and gums healthy. Dr. Cooper can determine the cause of your yellow teeth and recommend the best options to help you achieve a whiter smile.