Cosmetic dentistry can enhance the appearance of your teeth, improve your oral health, and boost your confidence—now that's something to smile about!
Veneers are an option when it comes to creating a more symmetrical smile and changing the shade and shape of your teeth. But are you a suitable candidate for veneers if you have crooked teeth? A comprehensive dental exam with your dentist will help determine the right path to take to achieve your smile goals.
After assessing your unique teeth and oral health, we can create a customized treatment plan to transform your smile!
What Are Veneers?
Veneers are thin shells of porcelain that are bonded to the front of your teeth to help improve the appearance of your smile. Each of the thin shells are custom-made to give you a natural-looking smile.
Veneers can address several aesthetic concerns, including:
Tooth discolouration
Misshapen teeth
Chipped or broken teeth
An asymmetrical smile
Smaller sized teeth
Overcrowded teeth
Veneers are a permanent smile solution, meaning the process cannot be reversed once they are applied. This is because your enamel has been removed to make space for the veneers to be bonded to your teeth.
Taking care of your veneers requires the same care and attention you give your natural teeth. They will need to be brushed and flossed daily to maintain good oral health.
During a consultation appointment, your dentist will assess your teeth to see if veneers are right for you.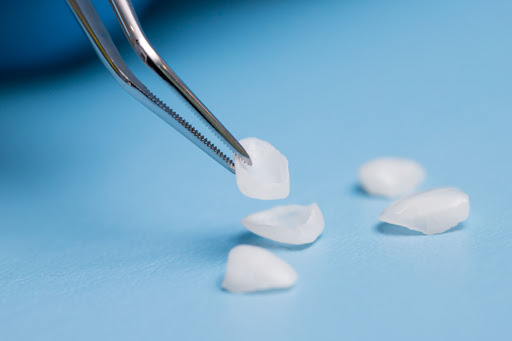 Are Veneers Right for You?
Not all patients are suitable candidates for veneers or require them to improve the appearance of their teeth. If you have crooked teeth, veneers can be an option to enhance your smile, but there may be an orthodontics solution that makes more sense for your smile goals.
When your dentist takes a look at your smile to determine a treatment right for you, they take into consideration:
Tooth quality, integrity, and shape
Tooth colour
Tooth position
Old dental work
Bite stability and function
Choosing veneers for your smile transformation will depend on how much correction your teeth need.
Do Your Teeth Have Good Quality, Shape, & Size?
If your teeth are crooked but are still in good condition, it may be worth moving them into the correct position with orthodontic treatment. This might be all you need to achieve the aligned and symmetrical smile you desire.
The downside to this solution is orthodontics, such as traditional metal braces, Six Month Smiles, or Invisalign, take time to align your teeth. Typically, orthodontic treatment can take anywhere from 1–2+ years to reach the end result.
Is There Teeth Crowding?
Veneers can be a solution for overcrowded teeth, but first, your dentist will assess the extent of the crowding. If only mild crowding exists, orthodontics can be an option to align your smile and move your teeth into the correct position for both appearance and better function.
Again, an orthodontic treatment can take time. Veneers offer a quicker result, usually taking 4–6 weeks, but the front surface of the tooth needs to be reshaped to create the ideal outcome. In some cases, if a tooth is substantially crooked, a prophylactic root canal may be required as a preventative measure before the veneer is bonded.
Is There a Combination of Crowding, Discolouration, & Old Dental Work?
When multiple factors impact your smile, it may be worth it to forego the orthodontic treatment to straighten your teeth and proceed to the veneer process. Veneers can address the various issues in one treatment and in a shorter time period.
Veneers Before & After
Here are a few examples of before and after photos of patients with veneers:
Patient 1
The front 4 teeth were veneered to address the crowding and the chipped edges. This natural color of the veneers blends in to create this beautiful smile!
Before
After
Patient 2
The top 10 teeth were veneered to address the discoloration and crowding. This beautiful smile now looks symmetrical and natural.
Before
After
Visit Us for a Consultation
When it comes to perfecting the appearance of your smile, veneers can work on crooked teeth, but there are multiple factors to consider when deciding if veneers are the right choice for you.
Teeth in good condition may only require orthodontics to reach their desired appearance. If the teeth are not in good condition, veneers are an excellent option to enhance your smile.
Veneers require the removal of part of the tooth structure and cannot be undone once removed. If you want to minimize tooth structure removal, veneers may not be the best option. For a quick result, veneers can be a great option. A consultation with Dr. Cooper will include a discussion of all possible options to help you achieve your desired smile. Book an appointment and see how your smile can transform!