If you notice your crown feels loose or it's come off completely, don't panic!
Find and hold onto the crown to bring to your trusted dentist. If it's still in good condition, they can cement it back onto your natural tooth. A new crown may be needed if the current one has been damaged or if the tooth has decayed.
Typically dental crowns can last anywhere from 5–20 years. Still, accidents and wear and tear can happen, causing a crown to loosen or fall out before its intended replacement date.
Following the recommended care instructions from your dentist can increase the longevity of your crown. Knowing the steps to take if your crown falls out will help protect the function and appearance of your smile.
Dental Crowns: The Lowdown
A dental crown, also referred to as a cap, is designed to protect a damaged tooth and help improve its function and appearance. A crown is a hollow, artificial tooth that is cemented to your natural tooth, covering it in its entirety.
The dental crown process takes place in-office and can be done for a number of reasons, including:
Protecting a weak or cracked tooth
Restore an already damaged or worn-down tooth
The is not enough natural tooth to hold a filling
Tooth discolouration
Protection after a root canal
What Causes a Crown to Come Loose?
You may be enjoying your favourite meal and notice food getting stuck around your gum line, or your teeth have become more sensitive to hot and cold temperatures. This could be a sign that your crown has come loose.
Common reasons a crown may come loose include:
Decay has developed underneath the crown, causing bacteria to soften the tooth, creating a poor foundation
The cement washes out due to bacteria getting inside the crown
The internal foundation may have cracked
Sticky foods pull the crown out of place
Teeth grinding puts extra pressure on the tooth, weakening the bond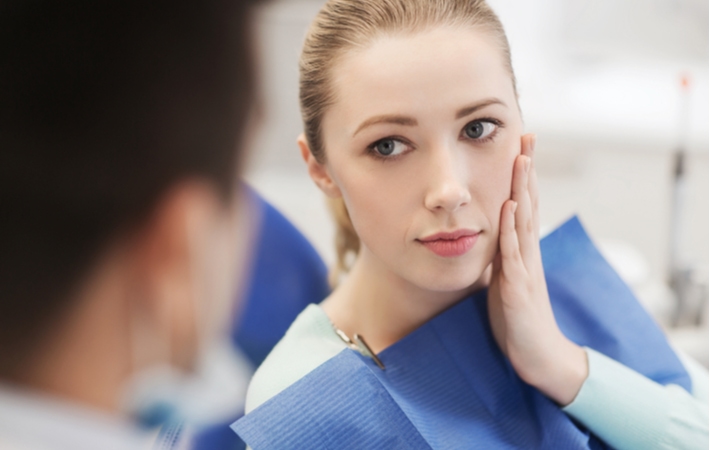 Steps to Take if Your Crown Loosens or Falls Out
A loose crown can be classified as a dental emergency, especially if you are experiencing pain. The sooner you contact your dentist for an appointment, the sooner you can continue protecting your teeth and smile.
Teeth can shift quickly. Ideally, if the crown is still intact, it should be recemented within 1–2 days.
If you are unable to see your dentist within a few days, you can use toothpaste or sugarless gum inside the crown to help keep it in place. Temporarily holding the crown in place can help prevent the neighbouring teeth from shifting.
While your crown is out of place, try your best to:
Avoid foods that are sticky or hard to chew
Avoid chewing on the side where the crown is missing
When brushing your teeth, be gentle around the affected area
Taking Care of Your Crown for a Long-Lasting Smile
Taking good care of your crown can help it last upwards of 10 years. Though they are made of strong materials to withstand chewing and biting, they are not indestructible.
After getting a crown, some tips to remember to prevent it from getting loose before it's due to be replaced include:
Don't chew ice and other hard foods that can chip or damage the crown
Stay away from really sticky food—candies tend to be the worst
Maintain a good and regular oral hygiene routine
Consider a mouthguard if your grind your teeth to protect the crown from wearing down
Scheduling regular dental checkups can help monitor how your crown and other dental work are holding up. Your dentist can catch and treat any issues that may arise before it impacts your oral and overall health.
Restore Your Smile
Book an appointment with the trusted and knowledgeable team at Cooper Dental if your crown has fallen out. We are here to help restore your smile!
If you're in need of a crown, whether a restorative crown or an aesthetic crown, you can count on us and your trusted dentist for comfortable and compassionate care.