Everyone wants a bright, beautiful smile with straight, white teeth. Unfortunately, not everyone is born with perfect teeth. There can be spaces or gaps between them, or they can be crooked and misaligned. If a stunning smile is your goal, it might take some work to get there.
How long will it take to straighten your teeth or to close spaces or gaps? The answer depends on several factors—including your commitment to schedules and appointments set out for you by your dental professional, and the complexity of your orthodontic issues to begin with.
An experienced dentist who excels in cosmetic dentistry can help you achieve your smile goals sooner. It all starts with an appointment and an evaluation.
How Long Is the Average Orthodontic Treatment?
Orthodontic technology has come a long way. The options for straightening your teeth have evolved beyond the traditional, metal-bracket braces you probably think of when you hear the term "orthodontics."
Nowadays, there are 3 types of orthodontic procedures to provide you with the perfect smile. The comprehensive approach which is done by an orthodontist. This may involve Invisalign or conventional metal braces. Either way, the approach incorporates idealizing the bite and perfecting the esthetics.
While every situation is unique, most patients need to wear Invisalign or braces for an average of 1-2 years. It may take even longer depending on the complexity. Not only is this a lengthy time commitment, but many patients find the tightening of the wires uncomfortable or the length of treatment to be too long to handle.
Most adults don't want to go through a long comprehensive procedure. If their bite is generally acceptable and it's just esthetic changes they want. then other approaches can be visited. Fortunately, there are ways to speed up the tooth movement process, as well as some other options for straightening your teeth.
6 Month Smiles
Cosmetic orthodontics provide an alternative to a comprehensive orthodontic approach. Often provided by a general dentist, cosmetic orthodontic procedures are a good option for those patients with a stable bite but issues with the front upper and/or lower teeth. If you are wondering how long it takes to complete, you have only to look at the name—six months. For this short-term orthodontic system, treatment is meant to be anywhere from 4-9 months depending on the complexity.
The 6 Month Smiles option is similar to traditional braces in that the hardware is non-removable and affixed to the teeth. However, the brackets are much less noticeable. They are not silver but rather a more natural tooth colour.
You will make monthly visits to the dentist to check your progress and have adjustments. If you follow the appointment schedule, you should see results every month.
Speeding Up Bracket Systems
If any type of the above bracket system is used, there are some ways to speed up the process. First, staying on track with your scheduled appointments is imperative.
Good oral hygiene is necessary to keep your mouth healthy. Regular dental appointments and cleanings, as well as brushing, flossing regularly or using the waterpik at home, will ensure you are getting the most out of your procedure—and that your teeth are at their best when the brackets are removed.
Avoid food and beverages that can damage the brackets. Hard foods like nuts and candy, as well as sticky, gooey foods like toffees and caramels can pull on the brackets or break them off. Raw fruits and vegetables should be cut. Stay away from carbonated drinks, particularly sugary sodas. If you do happen to dislodge or loosen a bracket, be sure to have it reattached right away.
Elastics may be recommended to correct and align your bite, and though most adults dislike them, you should use elastics as instructed in order to speed up the braces process.
Introducing Invisalign
Invisalign is another cosmetic orthodontic procedure, this treatment involves removable plastic clear aligners worn on the upper and lower teeth. They are virtually invisible from a social distance.
There are no brackets or wires, and unlike traditional braces, the aligners can be easily removed while you eat or drink. Best of all, you might even begin seeing results within a matter of weeks.
The total length of Invisalign treatment averages between 8 months and 1.5 years.
Aligners need to be worn 22 out of 24 hours a day to get results in a short time. You will also need to visit the dentist every 4 to 8 weeks in order to monitor your progress, and custom aligners need to be changed every 7 to 14 days. Failing to follow the schedule and commit to the process could set your progress back significantly.
Invisalign is best for those with adequate bites. If there are significant issues with the mechanics of the bite, a comprehensive orthodontic approach may be more beneficial. However, when the bite is functioning properly and all that is needed is cosmetic improvement, Invisalign is an excellent option.
Speeding Up Clear Aligner Systems
You will need to carefully follow the instructions of your dentist and the schedule they set out for you in order to achieve a stunning smile without a lengthy time commitment. Keep your teeth and mouth healthy through regular dental cleanings and a good at-home routine of brushing, flossing and use of a waterpik.
The aligners must be worn for the full 22 hours daily, as instructed, to achieve results in the shortest possible time. Aligners should also be changed in accordance with the instructions provided to you.
Aligners are created for your teeth, but if they do not fit as you change to the next aligner, immediately advise your dentist. They must fit as intended in order to do their job.
Avoid drinking hot or cold beverages while wearing aligners, and avoid carbonated beverages or sugar-laden sodas.
For some patients, elastics may be recommended in order to correct the bite. If you are advised to wear elastics, do so as instructed. You may also be able to use AcceleDent, a small device that generates vibrations to promote tooth movement.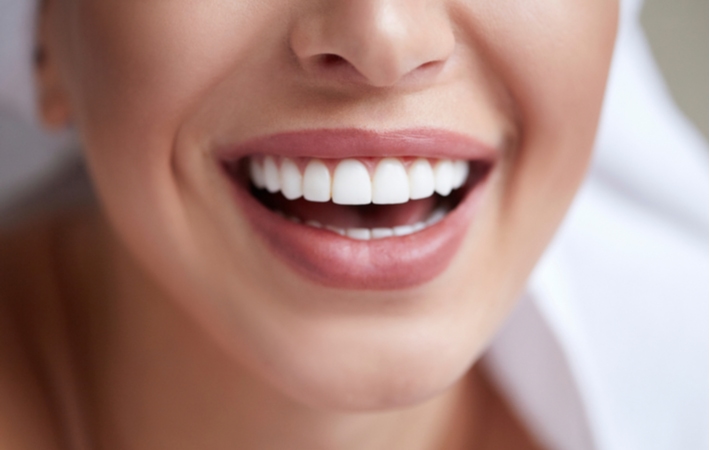 Teeth Transformations
These days, a straighter, more attractive smile can be yours quickly and easily. An experienced dentist can evaluate your mouth and teeth, and recommend the best option for your transformation.
Each person and situation is unique, and your personal transformation timeline will depend on your starting point. Improper bite mechanics or a very complex situation may lengthen the timeline.
Once your dentist evaluates your teeth and sets your expectations for treatment time, it will be up to you to help keep things on track. Always follow the instructions provided and keep your appointment schedule—your smile will be stunning in no time.