Not all dentists are created equally. Just as lawyers, doctors, and other professionals have their specialties and skillsets, so do dentists. You would not choose a divorce lawyer when you really need a tax attorney, and you would not choose a pediatrician when you really need a podiatrist. So, why are you selecting just any dentist?
Some dentists are local, convenient, quick, and easy. Others are a destination in themselves, the professionals you seek out when you want a particular skillset.
It is important to put some thought and effort into your search for a dentist. Your smile is what you present to the world—you need someone who will help you showcase the best possible version of yourself.
Read on to learn how to select a dentist for yourself and your family.
The Office Experience
When you select a dentist, it is important that you feel at ease in their office. Depending on the scope of the dental work being done, you might be spending a significant amount of time there.
Choose a dentist who offers a meet-and-greet and an office tour to help you get comfortable—this is particularly important if you suffer from dental anxiety of any kind. Knowing who is working on your teeth and getting acquainted with your surroundings will help to allay your concerns and inspire confidence (maybe even excitement!) for your upcoming procedure.
Understanding what kind of patient experience the dentist provides should also be an important factor in your decision-making. Some mainstream offices may have many patients booked in during a short period, while other, more boutique-style offices will provide elevated levels of personalized attention.
If you are interested in spending more time with the dentist, discussing your concerns and planning your smile, look for an office that books fewer patients throughout the day.
How Do They Approach Dentistry?
While all dentists undergo comprehensive training to ensure you receive the best possible care, there are very different approaches to the profession.
Some general dentists have special interests in a particular area or aspect of the field. This often means they have furthered their education in that area, spending significant time and investing in training at their own cost.
Continuing education is especially important if you are seeking out a cosmetic dentist or a dentist that excels in more complex procedures like implants. Continual advancements in the field requires a professional who intends to keep current with the latest trends and technologies.
When it is veneers or a total smile transformation you desire, selecting a dentist with a specialty in cosmetic dentistry and a comprehensive approach to analyzing the bite is your best bet.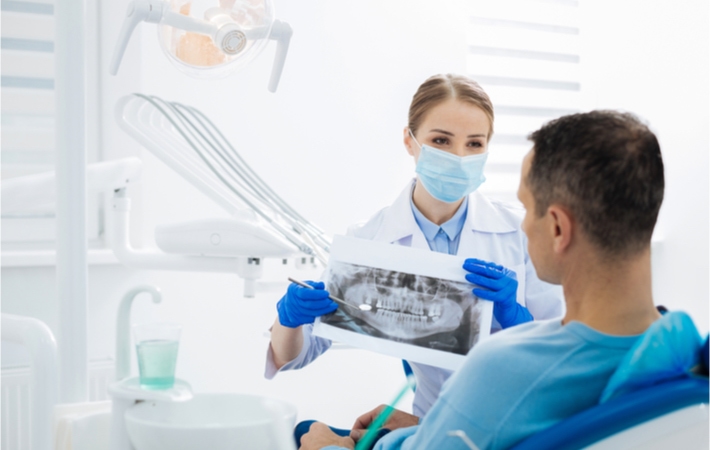 Health & Hygiene
Some dentists take a comprehensive approach to the profession, looking at many aspects of your oral health. Dentists with this approach will create a long-term plan for you, helping to devise a road map for both your health and the look of your smile.
Other dentists may be more focused on the teeth rather than the overall health of the mouth. They may also focus on any pressing matters at hand, such as a cavity or abscess, without focusing on how to prevent these things in the future.
Not all dental offices have a hygienist on their team either. If you are someone who would like to maintain your periodontal health, preventing inflammation of the gums and bone around the teeth will be important to you. In this case, you may wish to select a dentist who provides more extensive services than just the standard 2-cleanings-each-year routine.
Costs & Fees
The cost of dental work can vary by dentist. Fees can also vary depending on your individual insurance. If the cost is important to you, price shopping and insurance coverage can play a role in your decision.
It is also important to keep in mind that dental work is an investment in yourself. Third-party financing is readily available for your dream procedure.
Do What Is Right For You
Of course, different approaches to dentistry work well for different types of patients. Your teeth and mouth play an important role in your overall health, so it is important to shop around for the right dentist for you and your family.
Often, your network or friends and family will have referrals, and you may be able to select a dentist by hearing the experiences of the people you trust.
Ultimately though, you know how important your teeth and your smile are. Think about your goals for your teeth and oral health, and select a dentist accordingly.