Everyone deserves an opportunity to enjoy a straight, shining, confident smile. But crooked teeth, misalignment, and overcrowding can affect both your self-esteem and overall oral health.
While braces have been the longstanding answer to these issues, many orthodontic advancements now address the growing desire for quicker, more discreet results. Cooper Dental is proud to offer a diverse selection of cosmetic and orthodontic treatments, but some of the services our patients ask about the most include Invisalign and 6 Month Smiles.
Both are esthetic options for moving teeth. The main difference is that Invisalign is a removable multi-aligner system. This means teeth only move when the aligner is in. 6 Months Smiles are white brackets with a white wire, similar to braces, which means they are on the teeth 24/7 and the teeth are always moving into the correct position.
Both systems require some monitoring. With Invisalign, your doctor needs to check progress approximately 4-6 weeks, with the possibility of a virtual check-in. Where's a 6 Month Smiles is a monthly office check-in to have the wires changed.
Every treatment we offer comes with a list of requirements and adjustments, but today we're going to shine a light on these solutions and help guide you toward a bright, beautiful smile.
Adults Want Straighter Teeth More Than Ever
Let's talk about the elephant in the room: orthodontic treatment isn't just for children.
It used to be a common stereotype to reserve braces and other orthodontic treatments for children and teenagers, but this couldn't be further from the truth today. Orthodontic treatment has climbed nearly 40% between 1996 and 2015, and adults up to the age of 87 make up a large portion of these patients!
The interest in straighter, more aligned teeth is rising alongside advanced treatments that can address complications adults often worry about, like convenience and discretion. However, while braces may be one of the most common ways to correct misalignment, noticeable brackets and lifestyle changes can make braces far less appealing to an adult.
These concerns are why we offer our Invisalign and 6 Month Smiles programs. Both of these services can help deliver straighter teeth while minimizing the impact these treatments can have on your day-to-day life.
What Is Invisalign?
Invisalign is an orthodontic treatment that helps straighten teeth using a series of clear plastic aligners. Unlike braces, you can remove your Invisalign aligners when you're eating and brushing your teeth.
Invisalign's discretion and minimum impact on your day-to-day habits make it one of the most popular choices for adults looking for straighter teeth. But are they right for you?
When Is Invisalign Right for You?
Invisalign could correct some common orthodontic issues, including:
Overbites
Crooked teeth
Tooth gaps
Crossbites
However, Invisalign may not be a great option if you're missing teeth or have more complex issues that could require surgery or other, more involved orthodontic treatments.
What Can You Expect From Treatment?
When you come in for an Invisalign appointment, we'll take x-rays, photos and create a 3D scan of your teeth using an iTero scanner. This 3D scan helps us determine if Invisalign can correct the issues you're experiencing and visualize what your smile may look like after you complete your treatment.
If Invisalign is right for you, we'll create a series of clear plastic aligners for you to wear. It will take 2-3 weeks to get the aligners, followed by a 1 hour appointment to install the buttons that go on the teeth to keep the clear aligners in place. You'll wear these aligners for about 1-2 weeks before graduating to your next set of aligners. The aligners can help correct your orthodontic problems over time, with treatment lasting 12 to 18 months on average.
Is Invisalign Really Better Than Braces?
Whether braces or Invisalign are right for you depends on your oral health. Serious bite issues and complex misalignment may need braces or even oral surgery to correct appropriately, but research has shown Invisalign to be effective for more common problems.
For Invisalign to deliver the results you're looking for, you need to wear your aligners as much as possible—a minimum of 22 hours a day. You may only take them out while you're eating and brushing your teeth, compliance is the key to ensure the treatment is effective.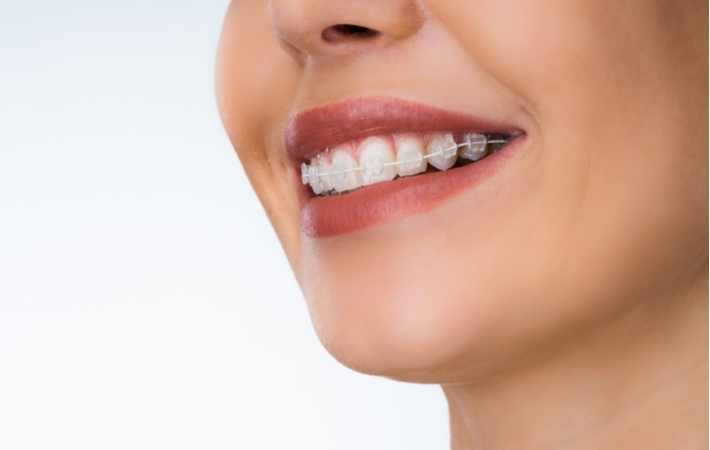 What Is 6 Month Smiles?
6 Month Smiles is a faster, more discreet treatment that aims to bring you a straighter smile in, you guessed it, about 6 months!
6 Month Smiles use brackets and wires that match your natural tooth colour, making them more difficult to notice at a passing glance. We strategically place these brackets on the teeth and make adjustments monthly over 6 months to help straighten your teeth, keep your progress on track and deliver the smile you've always wanted! Treatment time on average is 6 months but can vary between 4 to 9 months.
When Is 6 Month Smiles Right for You?
6 Month Smiles are designed to straighten teeth, but since you are wearing it 24/7 the process occurs faster than Invisalign. It's perfect for those who don't think they would be compliant with wearing aligners for 22 hours a day. The treatment could help correct the look of:
Overbites
Crooked teeth
Tooth gaps
Crossbites
However, 6 Month Smiles can't correct bite misalignment or complex issues. If you're only looking to improve the aesthetics of your teeth and don't want to wait the average 2 years it may take for a braces treatment to finish, then 6 Month Smiles may be for you.
What Can You Expect From Treatment?
During a 6 Month Smiles consultation, we'll examine your teeth and take x-ray and photos to determine if the treatment is right for your needs. If you're a candidate, there's no need for impressions, we use the iTero scanner and send this information to 6 Month Smiles labs to customize your treatment.
In 2 to 3 weeks, we'll apply your braces in about a two-hour-long appointment and provide you with everything you need to manage your oral health during the next few months. You may also have to adjust the way you brush and floss to prevent food and bacteria from building up around your brackets and wires.
We'll have you come in for monthly adjustments to help straighten your teeth. Even though the treatment takes an average of 6 months, it may take up to 9 months to complete the process.
Is 6 Month Smiles Better Than Braces?
Like Invisalign, determining whether braces or the 6 Month Smiles program is right for you depends on your goals and what issues we need to address. However, 6 Month Smiles can be a great option if staying compliant with the demands of Invisalign is an issue for you. This treatment straightens your teeth 24/7, making it easier for you to achieve the results you want.
The Verdict?
When it comes right down to it, getting metal braces, Invisalign, or 6 Month Smiles all depend on what you need to maintain a healthy, radiant smile.
Even though every person has different needs, we commit ourselves to finding the right solution for you and your oral health. If you're wondering how we can help you, contact us today to book an appointment!