Dental care is important for every member of your family, including the littlest ones. When should your child first begin receiving dental care? Well, dental care begins with building awareness and understanding of oral health and how the dentist can help play a vital role in overall health.
Normally, the first teeth you will notice in your child's mouth are the lower central incisors. These erupt at around 6 months of age. Other primary teeth continue to come in over the next 23 months, with molars often being the last to erupt as the child nears 2 years of age.
We recommend that children come for their first visit either just after their first birthday or a little earlier if their teeth have started to erupt.
A lifetime of proper oral hygiene and quality dental care begins with your child having a positive impression of the dentist and the dental office environment. A large portion of the population experiences anxiety surrounding dental visits. Studies show that this anxiety and fear is passed down from parent to child.
Parents can play a crucial role in ending feelings of dental fear. It is imperative for your child's oral health that they do not have negative associations with dental care.
A "Happy Visit" is a great way to introduce your child to dentistry. Read on to learn more about the Happy Visit and children's oral care.
What Is a Happy Visit?
A Happy Visit is usually offered as a complimentary service by quality dental offices. It is intended to introduce children to the dental environment and help them form positive associations with going to the dentist. It is intended to be exactly as it is named—a happy visit.
Going to the dentist for the first time can bring up all sorts of new and strange sensory experiences for children. From the feeling of a dental glove in the mouth to the sound of the chair moving up and down, there are many things children will experience but cannot see. This is partly what can make children—and even adults—so afraid of the dentist. Much of what occurs at a dental visit happens out of view of the patients.
A Happy Visit allows your child to experience new sights, smells, and textures at their own pace, while respecting their autonomy and building their confidence.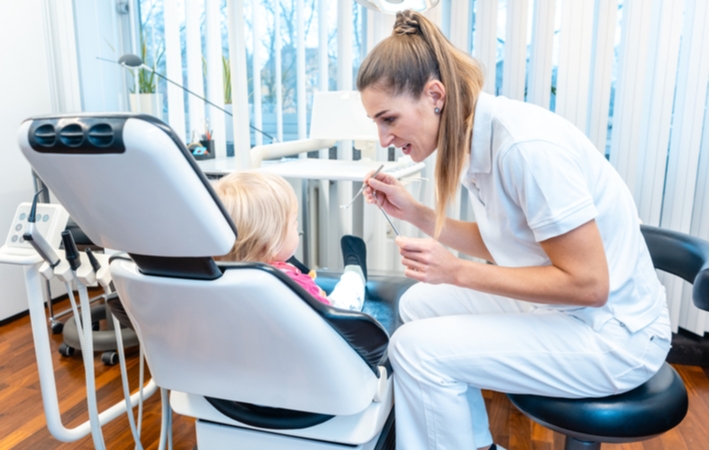 What Happens During a Happy Visit?
The Happy Visit begins with a friendly introduction from the dentist, dental assistant, or dental hygienist. This will take place in front of the parent or guardian so that the child knows these are safe people to interact with.
The dental professional leading the Happy Visit will explain every step in the dental process, why it is important, and why each tool is used. Children will have the opportunity to ask questions and even be involved in the steps.
Children can sit in the dental chair and "go for a ride" up and down as well as practicing laying backward. This is fun for kids when framed the right way! An additional step could be to let the child take control of the chair and move the dental professional up and down—this is a fun inclusion that provides some empowerment.
Dental gloves are a new smell and texture for young children, so offering them a glove to wear while they touch their own teeth can help them to get used to the new sensations. If touching their own teeth goes well, the next step might be to let the dental professional touch each tooth too.
Letting children work at their own pace and gradually get used to things builds up confidence and trust.
The equipment makes sounds that can seem scary, so letting the child see what each tool does and what it looks like can alleviate some anxiety. Children might benefit from running the polishing handpiece on their own by stepping on the foot control. If they feel comfortable with this, letting the dental professional gently polish a fingernail is a great next step before any teeth are polished.
Ultimately, the purpose of the Happy Visit is to build trust and confidence between the child and the dental professional, and provide positive associations with dental care.
How Can Parents Help Support a Child's Oral Health?
Bringing your child in for a Happy Visit is the first step to setting your child up for a lifetime of excellent oral hygiene. It is important to remember that everything may not go perfectly the first few times, but that each visit should gradually improve the child's confidence.
The first Happy Visit may be more observational, while subsequent visits may be much more interactive. Happy Visits should take place every 6 months until children are comfortable letting all their teeth be assessed, sitting comfortably in the chair, and accepting polishing treatments.
Parents can also help by playing "dentist" as a game at home. By using the back end of a toothbrush, the guardian can tap and count each tooth in the child's mouth—if it's fun at home, it's fun in the office too!
Most children start feeling comfortable by the time they are 4 or 5 years old, when traditional check-ups and cleanings can begin to take place.
Why Do Children Need Dental Care?
Oral health care is an important part of overall health, and it starts before all of the primary teeth have erupted.
Dentists can:
Assess spacing of teeth as predictors for orthodontics
Check for cavities, oral lesions, and overall health of the mouth
Observe tonsil size in relation to the mouth
Determine if airways are healthy
A dental check-up can also help the dentist detect the presence of any detrimental habits such as thumb sucking, tongue thrust, or grinding. Knowing these habits exist lets dentists discuss long-term side effects and offer solutions for management.
Dentists can be excellent partners for parents, helping them to navigate their children's oral health. Dental professionals are always eager to teach patients and parents more about healthy habits at home, including diet and snack tips, brushing and flossing techniques, and more.
Start Healthy Habits Today
Healthy habits begin with a positive first dental visit. Ask about Happy Visits and start your child on the road to a lifetime of exceptional oral health.