If you've recently gotten braces, congrats on taking the first step toward a beautiful, straight smile! While braces can take a little time to get used to, they offer many benefits. Orthodontic treatment can be a great investment in your oral health and overall appearance.
As you adjust to wearing braces, you may wonder what foods you can and can't eat. It's important to be mindful of the foods you eat while wearing braces, as certain types of foods can cause damage to your braces or affect your treatment.
Can You Eat Popcorn with Braces?
Popcorn can be a tricky food to eat with braces because it can get stuck in your brackets and wires. While it's not necessarily harmful to your braces, it can be difficult to remove the kernels from your teeth and gums, which can lead to irritation and discomfort.
Additionally, the kernels can break or damage your braces if you accidentally bite down on them. If you do decide to eat popcorn while wearing braces, it's important to be aware of the kernels in your bowl and your mouth to avoid any harm.
Some types of popcorn can be worse than others. Caramel-coated popcorn's stickiness and crunch can increase your chances of damaging your braces and getting stuck in your teeth. Try eating air-popped popcorn instead, as it's softer and less likely to get stuck in your braces.
You can also opt for softer, easier-to-chew snacks like pretzels, rice cakes, or crackers.
Can You Eat Chocolate with Braces?
Chocolate can be enjoyed while wearing braces, but remember to choose your chocolate wisely. Hard chocolate candies, like chocolate bars or chocolate-covered nuts, can be challenging to chew and may damage your braces.
Soft chocolate, like chocolate syrup or chocolate pudding, is a better choice to satisfy your sweet tooth. It's also important to be mindful of the amount of chocolate you eat, as it can contribute to tooth decay.
Make sure to brush your teeth thoroughly after eating chocolate to remove any lingering sugar from your teeth. Try eating sugary treats in moderation and opt for healthier snacks like fruits and vegetables when possible.
Can You Eat Gum with Braces?
Gum can be difficult to chew and remove from your braces, and it can also get stuck in your brackets and wires. Chewing gum may also cause your braces to loosen or shift, which can affect your treatment.
It's best to avoid chewing gum while wearing braces.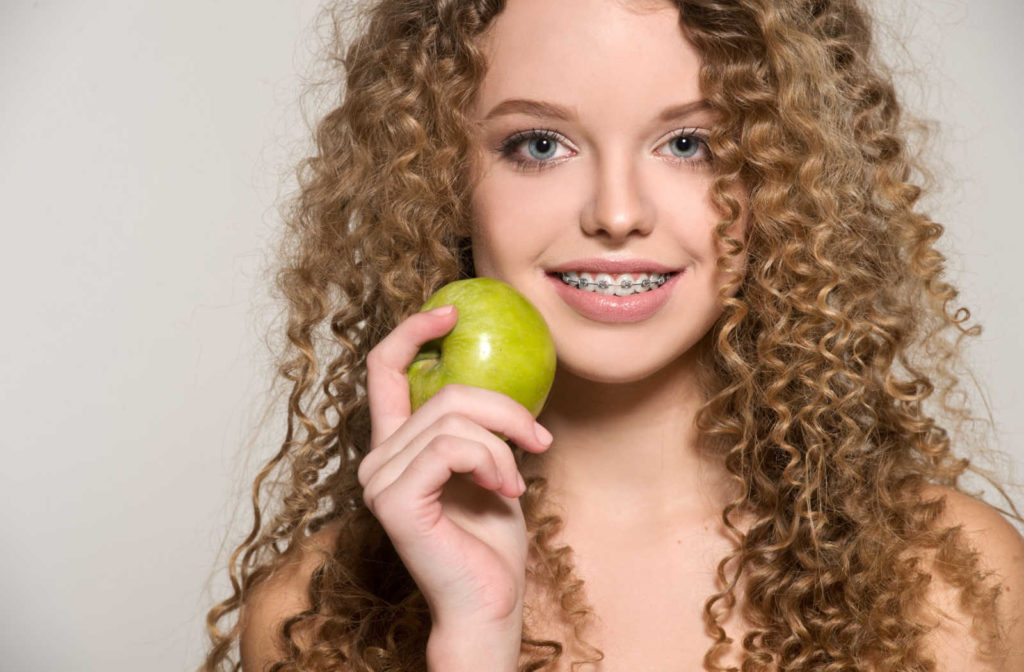 Other Foods to Avoid While Wearing Braces
Avoiding hard, crunchy, and sticky foods while you have braces can help maintain your oral health and keep your treatment on track. These types of foods can damage your braces and can also get stuck in between the brackets and wires.
Along with popcorn, chocolate, and gum, some other examples of hard, crunchy, and sticky foods to avoid include:
Hard candies and lollipops
Nuts and seeds
Caramel
Taffy
Hard cookies or crackers
When possible, avoid biting directly into foods with your front teeth. Instead, try cutting these types of food into smaller, bite-sized pieces:
Corn on the cob
Apples
Raw vegetables like carrots
Sandwiches
Burgers
Foods Safe for Braces
Eating with braces can be a bit of a challenge, but it's essential to continue eating a healthy and balanced diet while your teeth are being straightened.
Don't worry! There are still plenty of tasty options out there that are safe to eat. Try focusing on softer foods that are easier to chew and won't damage your braces. Here are some yummy options that are safe to eat with braces:
Soft fruits, such as bananas, avocados, and berries
Cooked vegetables, such as steamed broccoli and carrots
Soft grains, such as rice, pasta, and quinoa
Soft proteins, such as eggs, tofu, and cooked beans
Soups, stews, and pureed foods
Dairy products like milk, cheese, and yogurt are excellent sources of calcium and other nutrients
Ask Your Dentist for Guidance
Overall, it's important to be mindful of the foods you eat while wearing braces and use common sense. If it feels like it could damage your braces or get stuck in your teeth, it's probably best to avoid it.
With a little careful planning and some creativity in your food choices, you can enjoy a variety of tasty and healthy meals and snacks while wearing braces.
Remember, it's okay to indulge in the occasional hard or sticky treat as long as you're careful and clean your braces thoroughly afterward. If you have any questions about what foods to avoid, contact us at Cooper Dental for guidance. We can provide you with specific recommendations and help you understand how different foods may affect your braces.